Having announced the breakage of the S5500, I thought I would introduce you to my cameras. After all, cameras are somewhat central to photography! Neglecting to mention them after a year and a half of photo blogging just won't do!

This isn't really a review, it's just an introduction to the equipment behind the photos.

First of all, here they all are: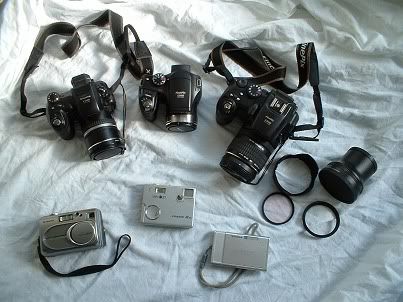 (Click for larger image)

Fujifilm A205

2 megapixels
3x optical zoom
Bought on eBuyer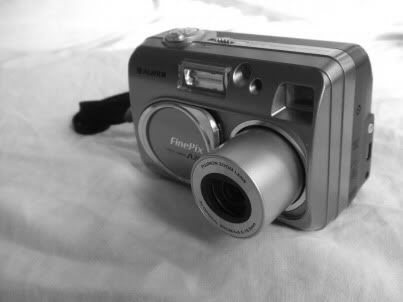 The only camera so far I have bought new (unless you count the camera phone which is not shown in the main picture).The main reason for replacing this one was that it is slow to start up and the camera was chunky. I wanted to be able to carry it easily in my pocket for everyday use and also be able to start it up quickly for things such as old cars passing by. The CCD also seemed to have become damaged over time, producing greenish blues and purpleish reds.

Minolta DiMAGE X20

2 megapixels
3x optical zoom
Bought on eBay




I didn't intend for this camera to replace the A205 entirely but I wanted it for everyday use. It would have been perfect - its size and weight was not too noticeable in my pocket and it had an instant startup time. What I found interesting was that the zoom, despite being optical, did not extend away from the camera but worked using a series of lenses vertically inside the camera - at the time of looking for a new camera I had never heard of this before.

Unfortunately, this camera was faulty. It was taking photos correctly only about 75% of the time. I told the seller this as he refunded a quarter of my money. To make matters worse, I dropped the camera and one of the clips on the battery cover broke and I was really struggling to get it to work - it would fail at the most critical of moments. So I upgraded soon after to a FujiFilm Z1.

Fujifilm Z1

5 megapixels
3x optical zoom
Bought on eBay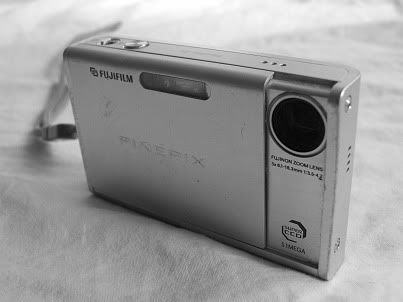 This is an excellent camera. I use this the most out of all my cameras.

Fujifilm S5500

4 megapixels
10x optical zoom
Bought on eBay




Nice camera although the 4 megapixels were a bit of a let down - I would have expected at least 5 but it was adequate. The startup time was slow as well due to the zoom taking its time to extend. Dropped it on holiday in Wales.

Fujifilm S5800

8 megapixels
10x optical zoom
Bought at Camarthen Camera Centre, Wales




What you see in the picture is what I got - no extras. The screen was broken too (I knew this before I bought it) but the electronic viewfinder can be used for taking and reviewing pictures.

I bought it mainly for an airshow I was going to go to at the end of the holiday but it was cancelled on the first day so I drove home and I was too ill the next day to make a three hour drive there, let alone the three hour drive back in the evening. So this camera has only been used to take a few pictures. I ordered another camera on eBay with my phone while I was still on holiday and it was ready to be collected upon my return.

Fujufilm S9600

9 megapixels
10.7x optical zoom
Bought on eBay




Firstly the thing I love about this which none of my other cameras have is a manual zoom - precise adjustments with no holding of buttons and waiting for it to extend and retract and no waiting for it to extend when it's switched on.

The was sold with the lens hood and telephoto lens pictured. The red filter was sold with the S5500 but it didn't fit. Unfortunately the telephoto lens wasn't made for this camera and does not work properly with it - if it is not zoomed in fully, the photo is just a small circle in the middle of a black rectangle.

The camera has a flash hotshoe and a socket for a remote release. It can also record films at 60fps.

The camera also has an interesting fold-out screen for shooting above one's head...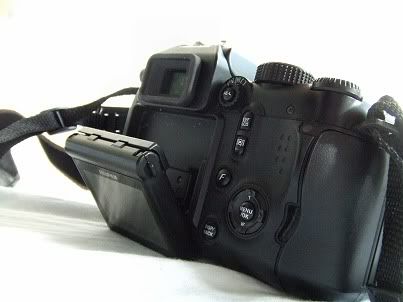 ...and at waist height...




The camera with its lens hood:




Zoom fully extended, telephoto lens attached: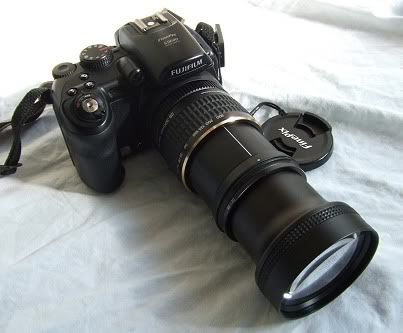 As you can see, I am rather a fan of Fujifilm! I like their logical, intuitive menus and the fact they include basic things such as the ability to protect all photos in one go (I considered a Canon but found they lacked this basic ability) and the retention of the last flash setting used (for example on the Minolta, the flash is on every time the camera is turned on, meaning the capacitor is charged ready (waste of battery) and I have to change the setting every time. ___________________________________________

As a side note, I will also introduce you to the camera phone as I have used it for some of the photos on the blog. Although a very good phone, it's my last choice for photography as the picture quality is so poor.

Sony Ericsson K530i

2 megapixels
No optical zoom
Bought from 3 shop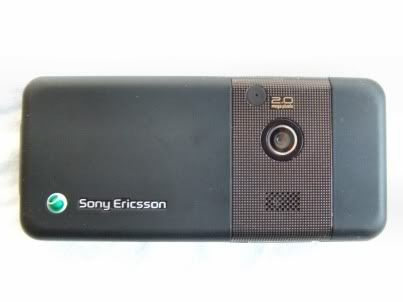 So, now you know the equipment behind the photos :)